See our FreeIndex reviews and find out what it's like to work with us.
See our reviews and find out what it's like to work with us.
Sarah and Nigel Wickham, Cranbrook
"We highly recommend Timberlogbuild. Steven and his team constructed our three-bedroom home quickly, efficiently and, more importantly, to a very high standard. The build came in on budget and on time and exceeds our expectations. Steven is a delightful man to deal with. Fair, honest, knowledgeable and reliable. We are so pleased that we chose Timberlogbuild over other companies offering similar products and wouldn't hesitate to use them again, should the opportunity arise!"
Susan Nyari, Chelmsford
"We cannot praise Steven and his company enough. The build went smoothly and we now have a beautiful new log cabin for elderly in-laws. We had spent over a year and a half researching our different options before we met Steven and viewed some of his work. We were very impressed with his workmanship and the positive accolade given him by other customers. He is a pure gentleman with a Christian ethic and completely trustworthy and reliable.
The craftsmanship and knowledge of carpentry is based upon years of experience and Steven takes much pride in all of his work. From start to finish he offered advice on all aspects of the build and nothing was too much trouble. His workmen were reliable and a pleasure to have on site. They were extremely hard working, polite and professional.
I would recommend Timberlogbuild to everyone. They offer a high-quality range of products and were so easy to work with. Through Steven I would be more than happy to meet and show potential customers my lovely cabin and to share our experience."
P Knight, Horley
"The company was very accommodating from the initial stages of planning to the actual build. The log cabin went up very quickly and the workmen worked hard to finish the project to a high standard. Any problems that arose were sorted out quickly and with minimal fuss or disturbance to me. The log cabin is being enjoyed very much at the moment."
Glenn Peters, Maidstone
"Cannot praise Steven and his team enough. We changed our mind at least five times throughout the year before we ordered and Steven accommodated and advised all along the way. The build team were great and displayed a work ethic I think we could all learn from and were patient and efficient whilst we asked them a million questions. Great job. Great quality. And a great service. And a great home."
Peter Wilcock, CEO, Cranbrook Golf Club.
"Before we hired TImberlogbuild Ltd we researched the whole market. There is no doubt that Steven and his company are the best in the business. Do not hesitate to hire this company, you will not be disappointed."
Doug Cottham
"After spending almost a year searching for a log cabin mobile home for our daughter and two young sons to live in as an annexe to our house, we were introduced to Steven, who owns Timberlogbuild. He came and discussed what he could supply and build for us. We were quite specific in what we wanted and he was very accommodating. We altered the design several times to get the cabin just right. We chose the largest cabin we could get on the land and obtain planning permission for, 11 x 6 metres. Finally after our agreeing and paying our deposit the building arrived and his team completed the build within two weeks. They were very professional and the end result is that everybody who has a tour is very impressed. Thank you."
Julia Jarman
"I would definitely recommend Steven and his team for any timber building project. He delivered exactly what he said he would with no hidden extras and we are very pleased with the quality of the building. His team were very tidy, punctual and polite, very refreshing!"
Mark Shaw, Horsham
"A rather belated but heartfelt thankyou to Steven, and all at Timberlogbuild. I ordered a 9m x 6m timber twin unit mobile home from them at the end of July. Despite my worries, my new cabin turned up on the day expected, and on Sunday 23rd August, Steve arrived with four workers and started offloading. By the end of the day the two sides of the floor were built, and walls were going up.
Unfortunately, the weather was rubbish for the next week, but within another day and a half the roof was watertight, and everything dried out perfectly. After this, progress was rapid, and once again any fears I had about quality disappeared. I tweaked a couple of the initial design details, putting Velux windows in the vaulted lounge and bedroom
Ceilings and vertical larch cladding on the outside. Both of these went smoothly and professionally. I could go on, but will cut it short to say the finished cabin far exceeds what I expected. From the engineered oak floor, the windows and doors, the insulation and warmth of living in it now for a month, trust me, I'm very happy. Most of my friends really can't believe the quality and beauty of my new home, especially at the cost."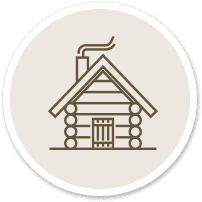 Please get in touch
if there is anything else you would like to know about log cabins and log buildings, the design or the construction process. We will give you all the information you require.
Did you know that we can organise a Lawful Development Certificate for your project?