How much do log cabins cost?
It really depends on how much materials we use, we have different types of log cabins. As you will see on the website – there are different ways of constructing them, we are happy to provide a bespoke quote for you.
Do you have a showroom?
We show examples of our work by showing clients houses that we have built – this way you can hear about our services, you are speaking to a real life customer of ours and get to hear about their experience.
What is included in the price?
We provide a full specification – this lets you know everything that is included e.g. Insulation, roofing materials, double glazed windows, flooring etc. Plumbing, electrics and the kitchen are not included. However we are happy to offer a turn-key solution should this be required.
Where is your timber coming from?
Some of our timber comes from Lapland and Finland, and some comes from Transylvania. We also source timber and materials from our local merchant, as we are keen to support local businesses as well.
Do the mobile homes come in two halves?
No, they come in a flat pack, in an articulated lorry, so access is an important factor – if there are challenges, we work with other contractors to solve any problems that may occur.
What are the cabins built on?
Mobile homes are usually built on a strip foundation, we would provide advice on whether this is best or if it would be better on jackpads.
Are the cabins insulated?
Yes they are insulated i.e. floors, walls and ceilings. Floors and ceilings have 150ml of rock wool insulation and the walls have 100ml, this is because the majority of the heat is lost through floors and ceilings.
What do you usually put on the roof?
We usually use bitumen shingles, we can use any type of roofing materials e.g. Wood shingles, however bitumen is the most economical.
Are the mobile homes complying with the caravan laws?
Yes they do, because they are built to be split into two halves.
Do you offer finance?
No, at present we are unable to offer this facility unfortunately.
How long does it take?
10-12 weeks from the deposit being taken to receive delivery of the materials and 4-6 weeks to build the structure.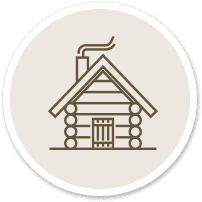 Please get in touch
if there is anything else you would like to know about log cabins and log buildings, the design or the construction process. We will give you all the information you require.
Did you know that we can organise a Lawful Development Certificate for your project?