Timberlogbuild is a timber construction that can supply and build and transport a variety of mobile homes to suit any design or budget.
Are you looking for a timber construction company that can build you a wooden mobile home? Then we are the right choice, because of our vast experience in the design and build of wooden mobile homes. We build wooden mobile homes to meet a variety of specifications, with the ability and resource to work to tight deadlines.
We believe a wooden mobile home should be sturdy, and be able to withstand the forces imposed upon them while being moved. For that reason all our wooden mobile home designs are built to last.
By definition a mobile home cannot exceed 20m by 6.8m, and because of a lack of completeness in the Caravan Act of 1968, there is no limit for the roof height. It must also have the capability to be moved as a whole, or in two halves by an appropriate vehicle. Our wooden mobile homes fully comply with the regulations that have been set.
Would you like to view our work?
Please call us to arrange a visit to one of our completed projects in South East England
Call or email today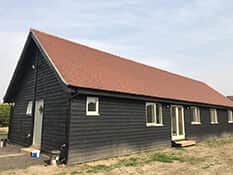 Also, our mobile homes come in ready to go kits, or you can design your own mobile home. Should you instruct us to build it for you, our experience will allow the project to be completed with the highest standards as well as quick turnaround times. Then, should you need to move or transport your home to a different location, you can rely on us to turn up quickly to accommodate your move.
It is our belief that wooden mobile homes should be designed with the idea that construction and deconstruction should take the minimum amount of time possible. That's why you can expect the build phase of your wooden mobile home to be completed efficiently.
Those who have been using their plot of land for caravanning will enjoy a much more comfortable experience when taking some time off in the countryside. A well-built wooden home can act as a second home, and because it meets the requirements of a mobile home your chances of getting the planning permission approved will be increased. The natural and beautifully crafted wood on the interior will provide a much more cosy, and relaxing feeling that a caravan ever could. It's also a more suitable place to entertain friends and family on the weekends.
Looking for a wooden mobile home constructed by an industry leader? Then don't hesitate to give us a call at or email us at
Please click on the galleries below to view some examples of our work from start through to completion:
For a timber construction company who build high quality wooden mobile homes give us a call on or click the button beside to get in touch