Timberlogbuild is a timber construction company that can build you a high quality log cabin or holiday home.
Are you interested in getting a log cabin built that is of a supreme quality and style? Then Timberlogbuild is the right company for you because that's the only kind we build. Our wood is of the finest quality sourced from the Carpathian Mountain Region. When you combine high quality wood with industry leading workmanship the outcome of exceptional log cabins is inevitable.
Log Cabins That Are Built To Last
Our wood, when treated, will last for years. This should tell you that we are confident our log cabins will stand the test of time. We don't take shortcuts, or use cheap materials. Industry leading construction methods and equipment are used to build the kind of log cabins that we are proud to be associated with.
Would you like to view our work?
Please call us to arrange a visit to one of our completed projects in South East England
Call or email today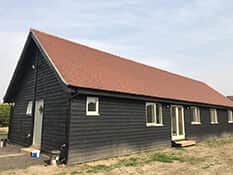 Built To Specification
Do you have a specific log cabin design in mind that you want built? Then you can trust us to turn your dream into a reality. Our attention to detail and highly professional design team can create plans that match your requirements exactly. Then our professional construction team will use their experience to follow those plans to the tee during the entirety of the project.
With our years of experience, we can help you come up with a design even if you are not quite sure what you are looking for. Over the years we have acquired a good idea of what our customers want from a log cabin, and the design features that are applicable. Therefore, you can trust us to get you the end result that you're after. We have not enjoyed success in the log cabin industry since 1998 without knowing exactly what we are doing.
Looking for a log cabin constructed by an industry leader? Then don't hesitate to give us a call at or email us at
Please click on the galleries below to view some examples of our work from start through to completion:
Want a log cabin or holiday home built by a reputable timber construction company? Then give us a call on or click the button beside to get in touch