Timberlogbuild is a timber construction company that can build you a bespoke and handmade timber building at a competitive rate.
Do you have a particular design in mind for holiday lodges, timber framed houses, log cabins, or a wooden mobile home and are looking for a company to build it for you? That kind of project is right up our street, because we have been completing them since 1998. We know what it takes to take a custom build project from a vague idea to a complete finished project in a short turnaround time. We value our client's time, and that's why you can expect us to move things along smoothly at every stage of the build.
Exceptional Design Department
One of the many reasons why we are able to provide bespoke designs that match client needs to the tee is our professional design department. Every custom build project starts by making sure that we are on the same page as the client, and we do that by coming up with high quality plans which leave nothing to the imagination.
Our design department can produce 3D images, U-value calculations, structural calculations and architect drawings before a project takes off. Our sophisticated design software will allow you to see the timber structure before any construction even starts.
Would you like to view our work?
Please call us to arrange a visit to one of our completed projects in South East England
Call or email today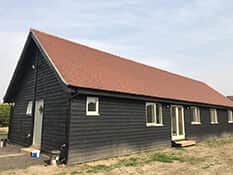 Why You Might Need A Bespoke Design
On occasions, our clients use bespoke design services to incorporate the design of a timber log cabin around a landscape feature. In situations where a standard build will not work a bespoke design can overcome space-related problems.
Furthermore, if you have specific purpose in mind for the finished timber structure with a particular design then it might be that the generic options are unsuitable. Therefore the only option is to opt for a bespoke design.
Typically, a bespoke design will add to the cost of a generic one. However, because of the benefits that the bespoke option provides the extra cost is worth it for our clients.
Wooden Treehouses
Treehouses have become more and more popular with our clients over the years, they typically ask us to build a wooden treehouse in an area that is detached from the main house, and has a variety of natural landscape features surrounding it – and it is not just for their children. For example, it's common that we build a treehouse for a client who is looking for a room detached from the rest of the house where you can relax, do some quiet reading or simply spend some time in when you want to be closer to the nature that surrounds your home.
If you are looking for a treehouse for your kids then they will love this setup. However, we understand the dangers of a raised treehouse, and therefore we take extra care to make sure no piece of wood will break under pressure.
Have an idea for a timber building, but not sure how to make it work? Then don't hesitate to give us a call at or email us at
Please click on the galleries below to view some examples of our work from start through to completion:
For a timber construction company that can build you a bespoke and handmade timber building us a call on or click the button beside to get in touch