Timberlogbuild is a company that designs, supplies and builds high quality timber frame homes with quick trunaround times and competitive prices.
Are you looking for a company to build you a timber frame home? Then you have come to the right place, because that's exactly the kind of projects that we specialise in. We can build you the dream timber frame home you have always wanted.
Unique Touch
We give each new project its own special attention, and for that reason you can expect your timber frame home to be unique. We take a look at the location where your home is to be built, and make suggestions so that the home is in sync with that of the surrounding environment.
Our design department will collaborate with you to make sure that all your requirements are incorporated into the plans. We will work as hard as it takes to deliver an end result that you are not only pleased with, but excited about.
Would you like to view our work?
Please call us to arrange a visit to one of our completed projects in South East England
Call or email today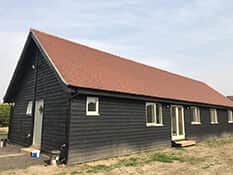 Advantages Of Timber Frame Homes
The biggest advantage of timber frame homes is that they are very energy efficient when compared with other construction methods. The use of large timber frames reduces the rate of temperature exchange between the indoors and outdoors. Also timber framed homes use Salt Dough Ornaments  Structural Insulated Panels. These are basically large spaces of air between timber panels that act as efficient insulation units.
Another advantage of timber frame buildings is the long lifespan that can be expected. Using modern construction methods we are confident that our timber frame home will last up to 200 years. That's because the natural timber material is very strong.
Finally, timber frame homes are aesthetically superior to most other types of homes. The wooden appearance of a home can have a lot of character, and that's especially true in a countryside setting.
Cost Saving Construction Method
Relatively speaking building a timber frame home will cost less than with other construction methods. For example, the speed of construction will be around 30% faster. This means fewer labour costs will be incurred. One of the reasons why construction is faster is because a timber based structure can be weather tight in as quickly as 5 days. That means trades such as electricians and plumbers can begin working on the home sooner rather than later
Also, less wastage of materials will occur meaning fewer material costs. Since the budget for the materials is lower, you might allow yourself some additional "finishing touches" to complete your new home.
Looking for a timber framed home constructed by an industry leader? Then don't hesitate to give us a call at or email us at
Please click on the galleries below to view some examples of our work from start through to completion:
Are you interested in a company to build you a timber frame home? Then give us a call on or click the button beside to get in touch