Would you like to view our work?
Please call us to arrange a visit to one of our completed projects in South East England
Call or email today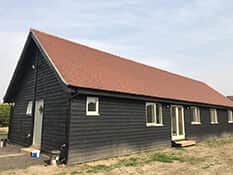 At Timberlogbuild we always have second hand log cabins for quick and easy installation and short turnaround times.
Are you interested in getting a log cabin built, but are looking for a budget price? Then perhaps you should opt for one of our second hand log cabins. They come in at a cheaper price than those of the brand new options, but because of the quality of the build you can expect them to be as good as new.
Our professionals will move the second hand log cabin to a site of your choosing, and set it up for you just the way you want it. Furthermore, if you are having trouble deciding on the specific location you want the log cabin placed in then perhaps we can help you decide. Our experience will come in handy when selecting a spot that is not only practical, but will help bring out the most out of the surrounding area.
Why You Might Want A Second Hand Cabin
There are a variety of reasons why you would want to buy a second hand log cabin, and they include:
Office: do you have a job where you are required to work from home? Then why not use a second hand log cabin as an office. It could be just what you need to increase your productivity if you have been struggling with distractions in your home.
Summer house: those who want a space separate from the home to relax in during the summer could use a second hand cabin as a summer house. You could even turn it into a games room by equipping it with a pool, or tennis table.
Looser planning permission: the advantage of using a log cabin is that you will not have to put up with strict planning permission. In some cases you might not even need to ask for planning permission in order to get the log cabin built.
Mobile home for sale near Milton Keynes.
The price for the cabin is £15k ONO.
Some fixtures which are negotiable
Dismantle and reconstruct £27k +VAT + transport.
Not including skips.
New bitumen shingles and the insulation would need to be purchased.
Below are some of the second hand log cabins that we currently have available for purchase, please get in touch should you wish to find out more.
Just click on the gallery to see the images for the Log Cabins we have available, if you would like to find out more, contact us on  or email us at 
Budget Log Cabins
The nature of second hand log cabins means that, unfortunately, availability cannot always match demand. To help our customers in situations such as this, we have a range of budget log cabins.
They can be a similar cost to a second hand log cabin and we have found that these have been extremely well received by our customers over the years.
You can click through this gallery to see the installation and finish of a budget log cabin.
If you would like to speak to us about one of our budget log cabins, or just for some more information, please call or email us at
Are you looking to sell your Log Cabin??? We regularly have customers who are looking to buy a second hand log cabin. If you are interested in selling your Log Cabin, then you are most welcome to advertise it here and we will then provide the dismantle, transport and construction service to your buyer – just contact us at for more information.
Interested in getting a timber based structure built by an experienced and professional company? Then give us a call on or click the button beside to get in touch